Archives
Board of Trustees
A Place in the World Where People of Dutch Ancestral Background and Friends Meet!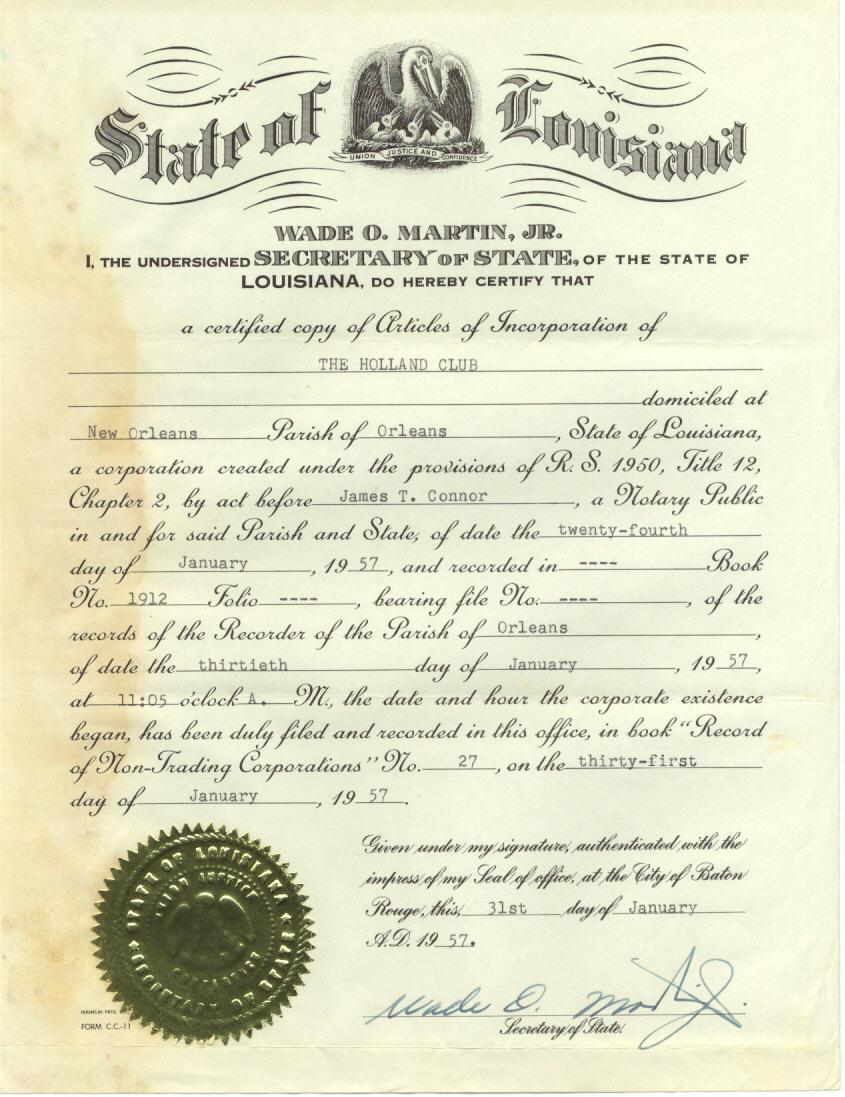 Statements of fact in Historical Document
STATE OF LOUISIANA
Wade O. Martin, JR.

I, the undersigned Secretary of State, of the State of Louisiana, do hereby certify that "a certified copy of Articles of Incorporation of

The Holland Club

domiciled at New Orleans, Parish of Orleans, State of Louisiana,

a corporation created under the provisions of "R.S. 1950, Title 12, Chapter 2," by act before James T. Connor, a Notary Public in and for said Parish and State, of date the twenty-fourth day of January, 1957, and recorded in ---- Book No. 1912, Folio ---- bearing file No.---, of the records of the Recorder of the Parish of Orleans, of date the thirtieth day of January, 1957, at 11:05 o'clock A.M., the date and hour the corporate existence began, and has been duly filed and recorded in this office, in book "Record of Non-Trading Corporations" No. 27, on the thirty-first day of January, 1957.

Given under my signature, authenticated with the imprint of my Seal of Office, at the City of Baton Rouge, this 31st day of January A.D. 1957

--Signed-- Wade O. Martin, JR.
Secretary of State
How great is a club when it is encouraged to come in dressed for Halloween. Folks have been known to wear home-made costumes, or just their plain selves, and food is entirely optional. Some have even worn dyed wigs of "crazy colors" like purple.
Normally purple is not a crazy color, like salmon, but when referring to hair, I think this qualifier is hip.